January 4th, 2014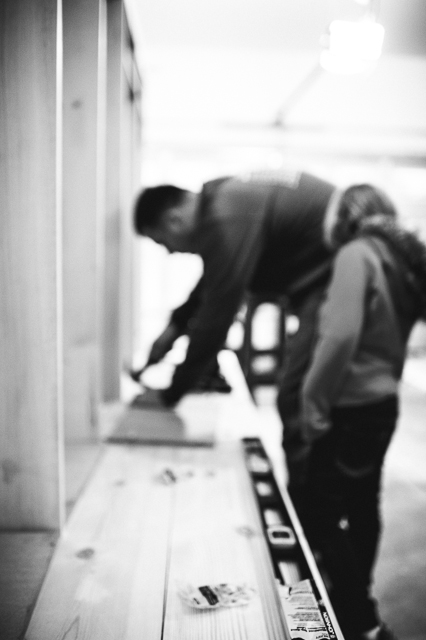 I wanted to try taking an out of focus shot to see if I could make it work. I kind of like it, but then again, I'm a bit biased

 Scott is building lockers for the garage and Abby helped him out this evening. He has put a lot of work into this project and it is almost done! I am so proud of him for working so hard on it and I can't wait for each of us to have a place to put our shoes and jackets. It is the first step in organizing the garage and I'm excited to get working on the rest of it. 
Courtney
I really like the out of focus shot. Look at you being all creative. Way to go! I think you've inspired me to give it a shot. And lockers! Way to go Scott!
January 2nd, 2014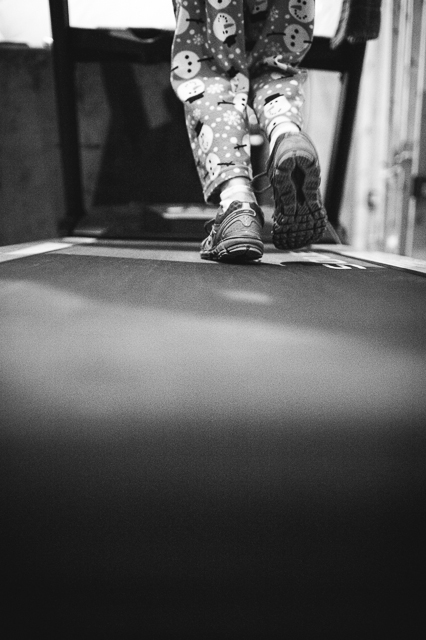 I have to say it is a bit challenging to get a photo of Abby on the treadmill with Cooper on my hip. But, it's all I took for the day so up on the blog it goes

Abby wanted to give the treadmill a try and she really seemed to enjoy it. Mckenzie wanted to try as well, but wound up putting dress up clothes on instead and dancing around for me.
November 23rd, 2013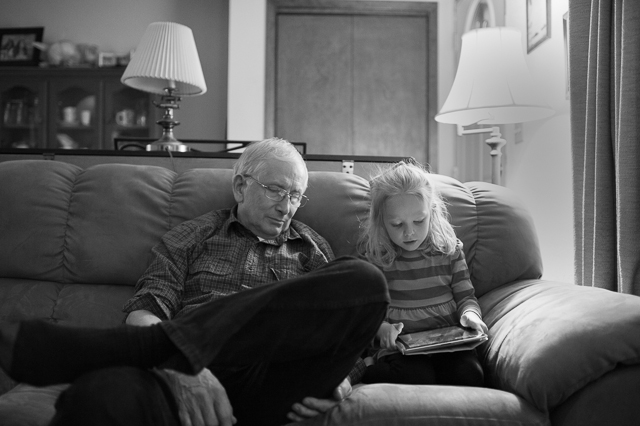 Mckenzie was showing Grandpa Hietala a game on the iPad. From the looks of it, I'd say Grandpa was REALLY into it 😉 We headed to ND for Cooper's baptism. The trip took a little longer than anticipated because we had to stop and secure the carrier on top of the car. We left Dakota in SD with Scott's mom giving us more room in the car for our luggage and the carrier was too light for the speed we were travelling. After getting Cooper down for the night, I met up with my three best friends. We have known each other longer than we haven't. It's pretty cool to think that after all these years and all the distance between us, that we can still get together and pick up like we hadn't been apart.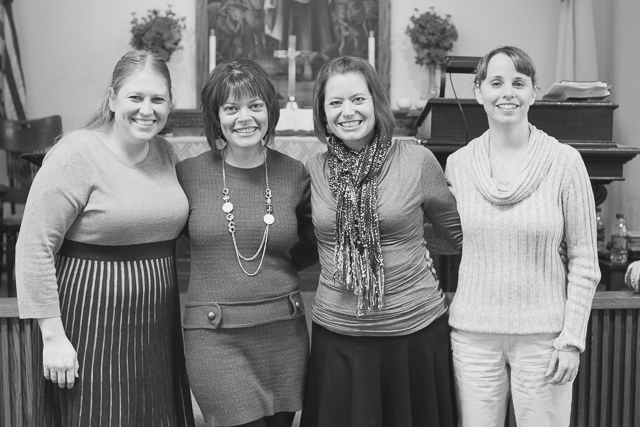 And yes, this technically was taken at the baptism the next day but I didn't bring my camera with when we went out

November 21st, 2013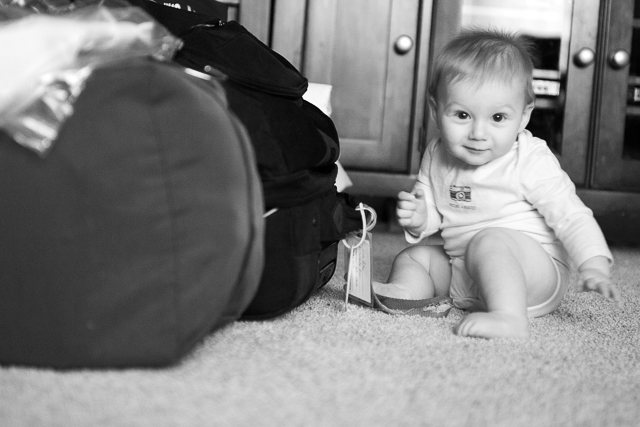 Cooper was helping me pack while everyone else was at school/work today. I'm not sure how much help he really was, but he sure is a cutie pie

We headed out for our trip after school. The weather wasn't the greatest and the roads were a little messy for a bit, but nothing that slowed us down too much. We pulled into SD around 2:30 in the morning. I'm not sure how Scott stayed awake the whole time, but he did. Little man wasn't a very good traveler at first and he screamed for at least the first hour and a half of the trip. I sat next to him which helped a little until he was finally ready to sleep for the night. The girls were fantastic travelers! Thank God for DVD players and snacks.
November 15th, 2013
The school nurse called me today to let me know that Abby wasn't feeling well. Abby's tummy and head weren't feeling the greatest so I went to pick her up. I guess our car has magic healing powers because by the time we were half way home (less than a 15 minute drive), she was feeling better and telling me she was hungry. She was a little off all afternoon, but I think it was more of a needing to spend time with mommy kind of sickness than anything else.I didn't mind though.  It was nice to be able to spend time with her

I was in the middle of cleaning my bathroom and she asked me if cleaning was all I did during the day and I explained how I also do laundry and run errands and take care of her brother. She seemed a bit disappointed by that idea. I wonder what she thought I did all day long?
Abby asked me if I would make up some math equations for her to practice and she decided the counter was the best place to do it.
Brooke
I love when the kids are home from school. I hate that they don't feel well but I love the one on one time we get to spend together. Love that she asked for math equations too. :)
Laurie
How sweet to want to spend a little time with mom. :) I found a great math website the other day. Second grade is doing "Rocket Math" and I figured we could start working on that with the kids (in all of our spare time)....anyway, he has tons of math worksheets. :) http://www.dadsworksheets.com